Swachh Bharat Abiyaan at Puducherry and Aliyar Reservoir Region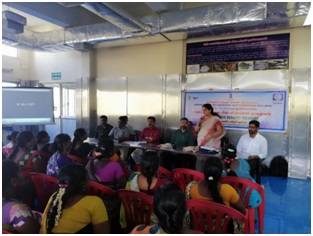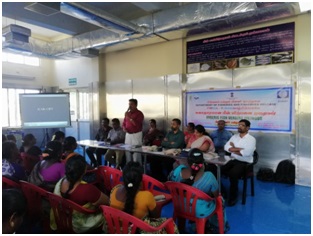 Awareness on cleanliness and personal hygiene to women fish vendors at Puducherry
As part of 'Swachh Bharath Abhiyan' ICAR-Central Institute of Fisheries Technology, Cochin organized two programmes.
 
Awareness on hygienic fish vending: On 6th March, 2018 a programme on 'Hygienic fish vending' was conducted for the benefit of fisherwomen at Puducherry. Dr V. Geethalakshmi, Principal Scientist, explained the importance of maintaining cleanliness and personal hygiene during fish vending and the role of cleanliness in enhancing the price realized for fish. A video on hygienic fish handling was screened to a group of 58 fisherwomen who were selected by Fisheries Department, Puducherry for vending fish at Model Hygienic Market. On the occasion, Shri A. Vincent Rayar, Director, Fisheries Department, Govt. of Puducherry stressed the need for cleanliness at home and work place and advised the participants to follow the hygienic handling protocol advocated by ICAR- CIFT.
 
Swachh Bharat Diwas celebrations: As part of Gram Swaraj Abhiyan, Swachh Bharat Diwas was celebrated at  Aliyar reservoir region, Aliyar, Tamil Nadu on 18 April, 2018.
Swachh Bharat Diwas at Aliyar reservoir region, Aliyar, Tamil Nadu