A collaborative nutritional campaign on 'Inclusion of fish in daily diet' was launched
ICAR-CIFT joins hands with ICAR-NRRI in launching a collaborative nutritional campaign on 'Inclusion of fish in daily diet' under World Fish Project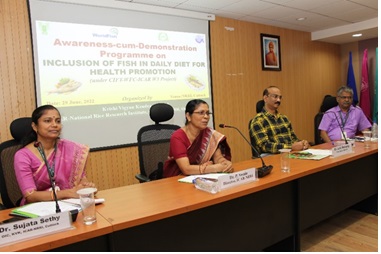 As part of the collaborative programme of ICAR-CIFT, Cochin and ICAR-NRRI, Cuttack under WFC-ICAR W3 (CGIAR) project, an Awareness -cum-Demonstration Programme on "Inclusion of Fish in Daily Diet for Health Promotion" was organised at Cuttack, Odisha by Krishi Vigan Kendra, ICAR-NRRI, Cuttack on 29 June, 2022. The programme was contemplated to sensitize the people about the importance of fish for alleviating the malnutrition in the society keeping eye upon the poor nutritional status of pregnant and lactating women, adolescent rural girls and children up to 1000 days of life in the society.
Chairing over the programme, Dr Padmini Swain, Director, ICAR-NRRI, Cuttack lauded the efforts of ICAR-CIFT to bring such a novel idea of inclusion of fish in our daily diet in the form of dried fish powder prepared from locally available small indigenous fishes. Expressing concern over the grim situation of Indian nutritional status with 14 % of its population as undernourished, she emphasized that small fish being the excellent source of many essential minerals like iodine, selenium, zinc, iron, calcium, phosphorus, potassium etc. , vitamins like A, D and B and poly unsaturated fatty acids (PUFA) helps in multiple functions in human body, including body growth, brain function, nervous system in the foetus and infants and controls the cardiovascular diseases. She called upon the school students, adolescent girls, pregnant and lactating women present there to adopt the practice of consuming fish in daily diet in which CIFT developed dry fish powder may be the most possible option to be continued throughout the year. She also emphasized on submitting a proposal to the Govt. of Odisha to include this value-added product in the Mid-Day Meal programme of the state on the basis of its successful indicators.
On this occasion, Dr A. K. Mohanty, Head, Division of Extension, Information and Statistics, ICAR-CIFT, Kerala in his deliberation highlighted the dominance of Indian fisheries in the global scenario as the 3rd largest in total fish production and 2nd in aquaculture production with an average annual growth rate of 14.8% and said that fish can be a better option for adding nutrition to human diet which contains an average of 15-25 g of most affordable and easily accessible animal protein per 100 g of cooked fish. Narrating the nutritional importance of fish and fish-based products for human consumption, he outlined some of the successful case studies on intervention of dry fish under the World Fish Project for effective inclusion of fish in daily diet as per the preference and choice of fish consumption. Also urged the start-ups to explore the agri-business opportunities in dry fish powder production.
In this connection, Dr Jogeswar Pani, Medical Officer of NRRI Dispensary also discussed about the prevailing nutritional status of women and adolescent girls and made the participants understand how this project will be helpful in improving their health and nutritional status. Earlier, Dr G. A. K. Kumar, Head, Social Science Division, ICAR-NRRI, Cuttack in his welcome address stressed upon the establishment of market linkage for continuous production and policy implication to make the practice of dry fish inclusion for human nutrition more sustainable. Dr Sujata Sethy, OIC, KVK Cuttack proposed the vote of thanks.
The meeting was followed by an interaction with participants regarding different aspects of dry fish-based value-added products, quality and their inclusion in daily diet with respect to availability of resources and socio-cultural taboos. A demonstration was also conducted on 'Preparation dry fish powder incorporated food products' in the form of various types of local recipes namely, Dry Fish Curry, Dry Fish Chutney, Dry Fish Rai, Dry Fish Ghanta for assessing the product taste and acceptability among the participants, so that the intervention study can be taken up smoothly. More than 100 participants including school girls and teachers from CRRI High School along with adolescent girls, pregnant and lactating women from different villages of the district, medical practitioners from Odisha state Health Department, state functionaries from Mission Shakti, Govt. of Odisha, officials from NRRI and KVK Cuttack and Food processing start-ups attended the programme.