Massive cold storage facility established for cardamom and vegetables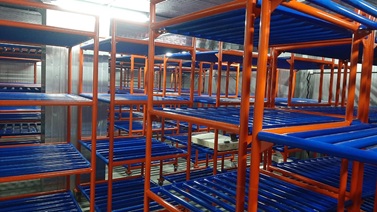 ICAR-Central Institute of Fisheries Technology, Kochi in collaboration with ICAR-Indian Institute of Spices Research, Kozhikode provided technical guidance to Kerala State Warehousing Corporation (KSWC) for constructing a Temperature Controlled Warehouse at Vandanmedu in Idukki district of Kerala for storing spices, fruits and vegetables. The work was carried out as a consultancy project, as part of the ICAR's commitment to public service, commercialization of research and to develop mutually beneficial partnerships with external agencies.

KSWC, a statutory corporation under Government of Kerala, has 55 warehouses established in various part of the state. All types of agricultural commodities notified by the government from time to time are taken for storage at the warehouse. This warehousing scheme was introduced to ensure scientific storage of agricultural produce, and also to arrange easy credit and holding power to the farmers, thereby enabling them to fetch better price for their products. The warehouse facility at Vadanmeduis mainly for handling the storage of dried cardamom and vegetables.

India is the world's largest producer, consumer and exporter of spices. India produces spices on 2.0 million ha area with an annual production of about 2.3 million tonnes valued at about Rs. 4500 crores, contributing nearly 20% of world's production. Spices and condiments are essential components of Indian diets which are used in all food preparations to add flavour, taste and colour. Even though production is high, losses of spice is also high (30 - 40%) due to high moisture content (55 - 85%) at the time of harvest and poor storage practices. Proper storage has a significant impact on the quality of the spices, especially for dried cardamom. Moreover, changes in quality of spices during storage are the most serious limitations of shelf life of the product, which in turn affects the consumer acceptance. When spices are properly packaged and stored in a dry, cold and dark place, it can be preserved for up to four years, depending on the type of the spice. The design and development of cost and energy efficient warehousing units with cold storage facility is required for enhancing the income of the farmers and warehouse service providers and supporting the economic development of the country. 
In this context, the Cold Storage unit has been established at KSWC warehouse at Vandanmedu with provisions to separately store Cardamom and vegetables, and an Anteroom. The unit is having a total plinth area of 90 sq. meter and it can store10,000 Kgs of cardamom and 1500 Kgs of fruits and vegetables at a time. The temperature of the cold room is maintained in the range of 5-150C and RH within the range of 60-70%. Provisions for Diesel generator set, hydraulic stalker, data logger etc. are also included.A Quality control laboratory was also set up to monitor the quality aspects of the stored agricultural produces. The total construction cost was approximately Rs.70 lakhs and the project was completed within a year. The facility is expected to support at least 150 farmers directly. It is envisaged at increasing the shelf life as well as quality of the stored spices and other agricultural produces, and thereby its price.

Dr. Manoj P. Samuel, Principal Scientist & Head, and Mr. Siddique V.K, Technical Officer, both from ICAR-CIFT and Dr. E. Jayasree, Principal Scientist, IISR, Kozhikode areinvolved in this project. The project management is done by ZTM-ABI unit of ICAR-CIFT Kochi.