ICAR-CIFT hosted ICAR Southern Zonal Tournament 2019 at Kochi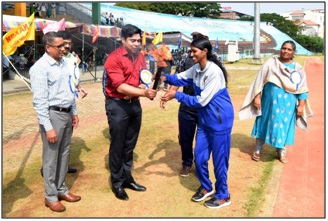 The ICAR- Central Institute of Fisheries Technology, Cochin hosted the ICAR-Southern ZonalTournament,2019 at Kochi from 4-8 November 2019. ICAR-CIFT, Cochin is privileged to host this tournament for the fifth time. ICAR-CIFT has also the record of successfully hosting this event earlier during 1985, 2001, 2010 and 2015.About 700 participantsrepresenting23ICAR Research Institutesfromthe southern states of India namely Karnataka, Kerala, Tamil Nadu, Telangana and AndhraPradesh are participating in thetournament.

The event was inaugurated by Shri. Suhas S., IAS, District Collector, Ernakulamon the 4th of November at 9.00 am in Maharaja College Ground of Cochin. In his inaugural address the Chief Guest Shri Suhas S, DC, Ernakulam stated that the event creates a nostalgic feeling within myself reminding my student life and encouraged the participants from different institutes to play the game with a true sportsman spirit and develop a fraternity among the organizations. Presiding over the function, Dr. Ravishankar C N, Director, ICAR-CIFT and the Chairman of the Organising Committee appreciated the efforts made by different institute including the host to make this event a grand success and strongly advocated the importance of sports in ICAR that builds a platform for the employees not only to showcase their talents but nurture a spirit of oneness among them, which later helps in their work front. Later, Dr. A. Gopalakrishnan, Director, ICAR-CMFRI, Cochin and Co-Chairman, Organising Committee applauded the zeal and enthusiasm of the participant employees of ICAR institutes to join a common platform through this tournament irrespective of their age, cadre, religion and culture; with a goal to develop friendship amidst a competitive atmosphere. Lastly the Dr. J.Bindu, Principal Scientist and Organising Secretary offered vote of thanks.

The event is beingofficiated and managed by the Officials from the Ernakulam District and State Association athletics and Games Associations.