International Day of Yoga Celebrations 2022 at ICAR-CIFT
On 21st June 2022, International day of Yoga was celebrated at ICAR CIFT headquarters and in its three research centers. At head quarts, Dr. Leela Edwin, Director (Acting), ICAR-CIFT presided over the function. In her opening remarks she mentioned on the importance and benefits of yoga for improving and strengthening physical and mental health.
Dr. Radhika A F, Consultant (Naturopathy and Yoga), Integrative Medicine Department, Amrita Institute of Medical Sciences, Kochi , was the Chief Guest for the programme. She delivered a talk on "Yoga for Humanity".
Practical session was based on the Common Yoga Protocol by AYUSH. Her team demonstrated basic asanas and different pranayama techniques. During the practical session, two best performers were identified by the experts and awarded. Prizes to the winners of various competition was distributed during the function. Dr. Prajith K K, Senior scientist & Nodal officer, IDY, proposed vote of thanks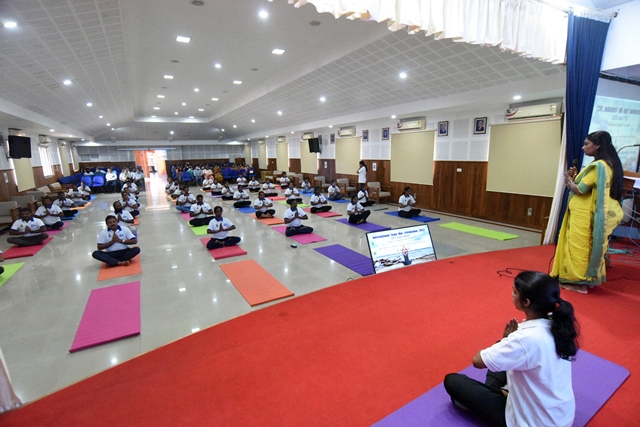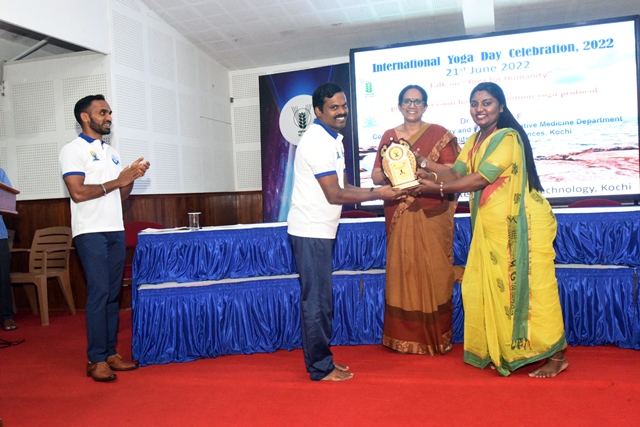 Prize distribution to the winners of various competitions.
Visakhapatnam Research Centre
At Mr. Deepak B. certified Yoga instructor was the chief guest and resource person at Visakhapatnam Research Centre, Dr. Ahamed Basha, Nodal officer, IDY, welcomed the staff and introduced the tutor to the participants. Dr. U. Sreedhar, Scientist-in-Charge and Dr. B. Madhusudhana Rao ICAR-CIFT talked on various aspects of importance of Yoga and its benefits for health and its wellness.
The teaching session started with prayer and ended with meditation session. All the basic asanas for day-to-day healthy living were taught to the participants. The entire staff participated in the session. Dr.P.Viji, Senior Scientist.Proposed vote of thanks
At Mumbai Research Centre of ICAR-CIFT
At Mumbai Research Centre of ICAR-CIFT, Smt. Deepa Singhal, Yoga Guru, Yoga Vidya Niketan, Vashi was the chief guest. Dr. Abhay Kumar, Scientist-in-Charge welcomed the gathering. Smt. Deepa Singhal, Yoga Guru lead the practical and theory session. All the staff members of the MRC of ICAR-CIFT actively took part in the session. Shri. Tulshiram Waghmare, Technical Assistant of the MRC of ICAR-CIFT. Proposed vote of thanks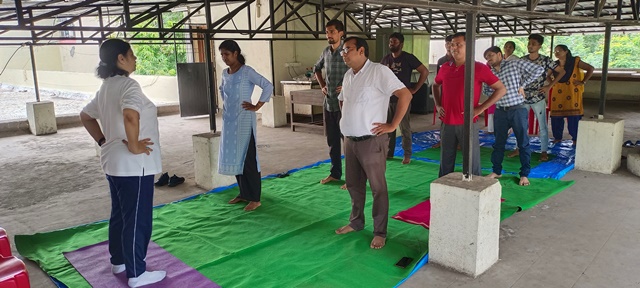 ICAR-CIFT, Veraval Research Centre, Veraval, Gujarat
At Veraval research Centre, Dr. Ashish Kumar Jha, Senior Scientist & Scientist In-Charge, welcomed the gathering and breifed about the programme. Yoga session was conducted by by Shri. Abhay Thakar, Yoga instructor Sanskrit University, Veraval. He also breifed about about benefits of yoga in day to day life. Dr. S. Chinnadurai, Scientist & Nodal Officer, proposed the vote of thanks.