International Day of Yoga celebrations at ICAR-CIFT
ICAR-  CIFT, celebrated the fourth International Day of Yoga on 21st June 2018 at its headquarters in Cochin and all its research centres at Veravel, Visakapatanam and Mumbai. The yoga celebrations at the ICAR-CIFT headquarters commenced with the welcome address by Dr. Suseela Mathew, Director-In-Charge. The guest of the day was Ms. Meera Menon, Isha Foundation Volunteer, assisted by Mr. Ambady Krishnan Menon. Ms.Meera  in her address stressed  the importance of yoga and briefed the participants about the various asanas which would be demonstrated in the session. The Yoga, tools for transformation was  imparted to the participants in a video show by Sadhguru foundation. About 30 persons participated actively in the session that lasted 90 minutes.  Dr. Bindu J , Nodal Officer  proposed the vote of thanks. 

Yoga celebrations at ICAR-Veraval RC of CIFT celebrationswere held on  20 and 21st June, 2018. Dr. Divu, Scientist In-Charge of Veraval RC of ICAR- CMFRI was the chief guest. A short film on Yoga- Harmony with nature" directed by Sri Raja Choudhury was shown.A yoga based quiz competition was held for the staff.Sri. ThakarAbhay (M. A, Yoga), Director, Abhayam, YogPrshikshan, Veraval ,lead the yoga session  for 24 staff  members withShanthimantra, followed bytheory of yoga. Practical sessionswere based on the Common Yoga Protocolwhich was followed by Prize distribution. Smt. Renuka V, Scientist proposed the vote of thanksDr. PrajithK. K, SIC and Nodal Officer coordinated the programme.

ICAR-CIFT, Visakhapatnam Research Centre observed the International Day of Yoga on 21.06.2018. A yoga session of 1.5 h was organized at ICAR-CIFT in the forenoon of 21.06.2018 and 25 staff participated enthusiastically. Yoga instructor, Ms. G. Roopa, a certified Yoga trainer from Yoga village, Andhra University explained the significance of yoga for leading a healthy life and demonstrated the various asanas.

Mumbai Research Centre of ICAR-CIFT celebrated the yoga day on 21st June, 2018 at 11.am. Smt. Rekha Chatterjee, a professional yoga teacher was the chief guest of the programme. Demonstration on different yoga techniques like asanas and breathing exercises were shown by her and the benefits of each practice for health was detailed. 12  staff members of MRC-CIFT actively participated in the programme and they expressed their interest in regularly following these yoga practices for a healthy living.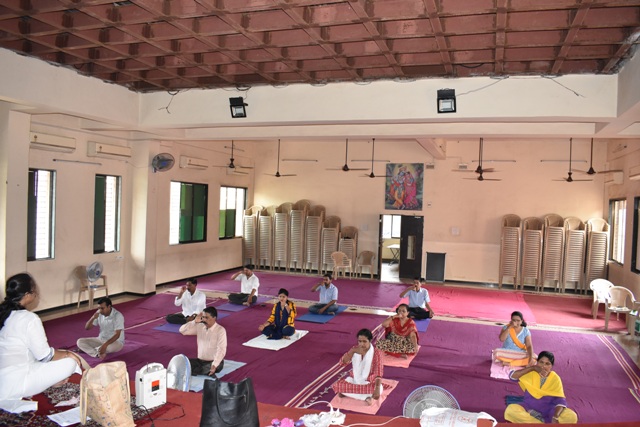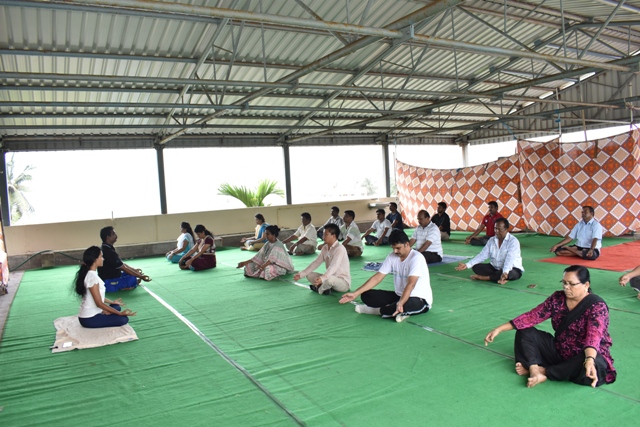 For more photos please visit Photo Gallery