Secretary (Fisheries) Govt. of India visits Veraval Research Centre in Gujarat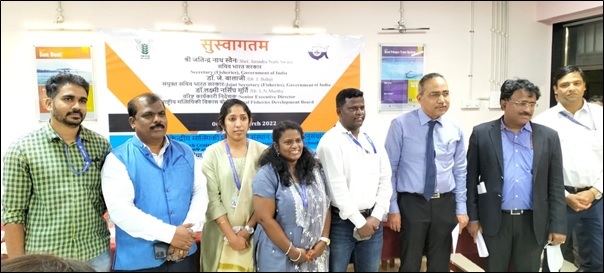 Secretary (Fisheries) and other dignitaries at ICAR-CIFT Veraval Regional Centre
Shri. Jatindra Nath Swain (IAS), Secretary (Fisheries), Government of India visited the ICAR-CIFT- Veraval Research Centre (VRC) in Gujarat on 6 March, 2022. He was accompanied by Dr. J. Balaji (IAS), Joint Secretary (Marine Fisheries), Government of India; Shri. Nitin Sangwan, Commissioner of Fisheries, Govt. of Gujarat; Dr. L.N. Murthy, Senior Executive Director, National Fisheries Development Board (NFDB), Hyderabad along with other senior officials of State Fisheries Department of Gujarat and scientists of the CIFT Centre at Veraval. The visit was planned on the pretext of during the launching of "Sagar Parikrama" to mark the gratitude to our seas and saluting the freedom fighters, sailors and fishers as a part of 75th "Azadi Ka Amrit Mahotsava". During his visit to different laboratories and demonstration facilities established at the Centre, the Secretary was apprised about the various technologies and the ongoing research and development programmes of the Centre by Dr Ashish Kumar Jha, SIC, VRC-CIFT. Being highly impressed with the R&D achievements of the Centre, he urged the scientists to focus more upon the sector- specific issues and location-based problems of the stakeholders, while formulating a research project.  Secretary (Fisheries) also had a fruitful interaction with the stakeholders of ICAR-CIFT to assess the status of the fisheries sector in Gujarat coast in the context of national scenario. Later, the Secretary extolled ICAR-CIFT for its the tremendous contributions for the development of harvest and post-harvest fisheries and advised the scientist to continue their effort to strengthen the sector.
Dr. J. Balaji (IAS), Joint Secretary (Marine Fisheries), Government of India also applauded the overall contributions of ICAR-CIFT reflecting a visible impact in the fisheries sector. While interacting with the stake holders Dr. L.N. Murthy Senior Executive Director, NFDB, Hyderabad explained about the different schemes of NFDB and called for any new initiative related to fish processing, seaweed-based product development and fish culture.
Lastly, Secretary (Fisheries) handed over some promising technological tools developed by ICAR-CIFT namely 'Refrigerated Fish Vending Kiosk' to "Shri. Bhimrao Matsayadyog Sakhari Mandali", a society run by SC community and 'Slotted Otter Board' to a local fisherman, Shri. Prabhudas. Director CIFNET, Cochin and Director NIFPHT, Cochin also graced the occasion along with other officials.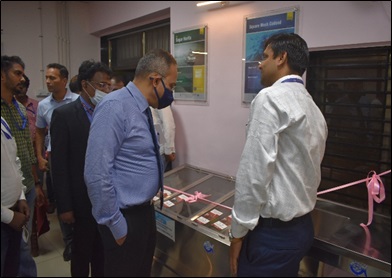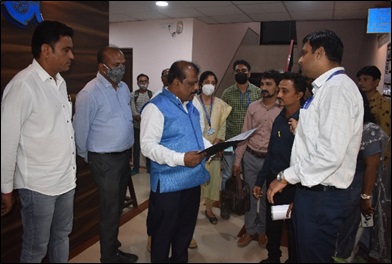 Appraisal of the CIFT technologies to dignitaries             Dr. L.N.Murthy interacting with the stakeholders