Hon'ble Vice President of India visited ICAR-CIFT -Vizag Research Centre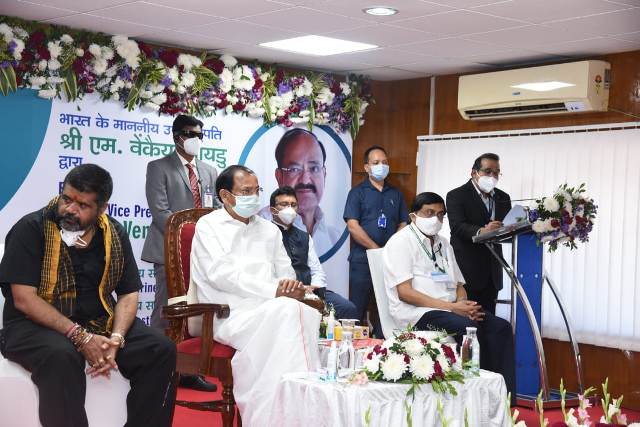 The Honourabale Vice President of India, Shri M. Venkaiah Naidu accompanied by Shri. Muttamsetti Srinivasa Rao, Minister for Tourism, Culture and Youth advancement, Government of Andhra Pradesh visited Visakhapatnam Research Centre of ICAR-Central Institute of Fisheries Technology on 7 December, 2020. While interacting with scientists of ICAR-CIFT Research Centre at Visakhapatnam, the Vice President highly impressed with the CIFT developed harvest and post harvest technologies like responsible fishing gears, by-catch reduction devices like square mesh cod end, turtle excluder devices, foldable traps, customized cast net, seaweed products, fish based value added products, chitosan, dried fish etc. showcased there for the visit of the delegates. Dr. Raghu Prakash, Principal Scientist & SIC, Visakhapatnam Research Centre of CIFT explained about the green fishing technologies for sustainable and responsible fishing. Dr. B. Madhusudana Rao, Principal Scientist appraised the Hon'ble Vice President regarding the entrepreneurial potentials of different post-harvest technologies of CIFT namely value added fish products, high valued by-products, nutraceuticals; where CIFT- Agribusiness Incubation Centre has made a tremendous impact in the sector through promoting fish entrepreneurship among the small fishers.
In his address to the scientists of CIFT, Honourable Vice-President of India stressed on the role of Indian fisheries, the most flourishing and enterprising sector as one of the major contributor to the food and nutritional security. He also emphasized on the health benefits of fish consumption as an affordable and easy source of animal protein to combat the malnutrition status of the country. In this context, he urged the scientists to understand and explore the need-based research issues for the wellbeing of the large scale fishers and to undertake the innovative and modern research as a future agenda. Evincing a keen interest on responsible fishing techniques, the Vice President highlighted its importance for sustainable management and asked to prioritize it as a future research agenda to sustain the livelihood security of small scale fisheries; those are mostly affected due to over exploitation of capture fisheries. He called upon the scientists to come forward for reducing the post harvest losses, developing nutraceuticals for health benefits, fish value addition as source of income, creating consumer awareness on food safety through hygienic handling and maintenance of fish in local retail fish markets. Hon'ble Vice President in his deliberation complimented ICAR-CIFT for bagging the "ICAR Best Institution Award" for three times owing to its best accomplishments in research and development. Highlighting the importance of Pradhan Mantri Matsya Sampada Yojana (PMMSY) scheme under Atmanirbhar Bharat, he urged for sustainable and responsible fisheries, enhancing production and generating employment opportunities through new innovations in fisheries, which may push India to leap forward from the position of fourth largest global fish exporter to top the list within a few years. The meeting was also attended by many more dignitaries, scientists from other research organizations, state government and allied agencies.