Swachhta Action Plan – Fish Waste Utilization Programme of ICAR-CIFT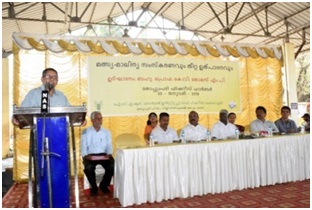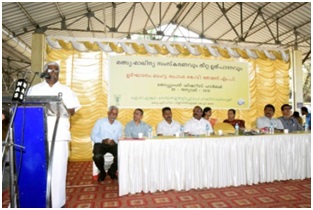 Presidential address by Dr. Ravishankar C.N.          Inaugural address by Shri K.K. Kunjachan
Under the Swachhta Action Plan, a sanction of Rs. 10.00 lakhs was received by ICAR-CIFT, Cochin for implementing the "Management and commercial utilization of waste in 20 fish markets (10/Year) in urban locations" from the Council. Under the programme it was envisaged to cover 20 fish markets/fish landing centres located in six states namely Kerala, Tamil Nadu, Karnataka, Andhra Pradesh, Maharashtra and Gujarat along with two markets at Delhi. Procurement of model kit consisting of equipments/tools for demonstration of the technology on conversion of fish waste to feed/manure was made.  A processing line including meat mincer for preparation of fish silage from fish waste was perfected and tested for field trials.
On 30th January, 2019 the inaugural function of the programme was held at Thoppumpady fisheries harbor, Ernakulam. Prof. K. V. Thomas the Hon'ble MP of Ernakulam constituency who has agreed to inaugurate the function could not attend due to some unforeseen reasons. The programme started with a welcome address by Dr. V. Geethalakshmi, Principal Scientist and Nodal officer, Swachh Bharat Mission, ICAR-CIFT, Cochin. The Chief Guest of the programme was Shri K.K. Kunjachan, Councilor, Kochi Nagara Sabha. In his Presidential address, Dr. Ravishankar C.N., Director, ICAR-CIFT elaborated the technology interventions made by ICAR-CIFT in fishing and fish processing industry and highlighted the technology developed for fish waste utilization. He added that the Agri-Business Incubation Centre at ICAR-CIFT supports operations on business projects as a measure of enhancing the foundation for new technology-based industries and establishing a knowledge-based economy.  
Dr. A.A. Zynudheen, Principal Scientist & I/c QAM Division, ICAR-CIFT, Cochin explained the technical details of the technology on "fish waste conversion to feed" and how it can be implemented at a larger scale at fish markets and harbours where tons of waste gets generated. Shri K.K. Kunjachan inaugurated the programme and stressed the need for proper waste disposal. He lauded the efforts made by ICAR-CIFT for the initiative in demonstrating a suitable technology for fish waste utilization as fish waste piling up in markets and landing centre are becoming a big challenge for want of suitable disposal mechanism.
Shri Noushad, President and Shri Majeed, Secretary, Harbour Management Committee spoke during the occasion and offered their support for the programme. Felicitating the programme, Dr. Saju, Joint Director (Fisheries), Govt. of Kerala expressed his support for the venture and requested that the Institute should organize similar programmes in other parts of the State. Shri Sudhir, Administrator & Chief Engineer, Cochin Fisheries Harbour also spoke on the occasion and promised full support for the venture and explore possibilities to establish a fool-proof waste management system based on the ICAR-CIFT technology at the harbour. Smt. Daisy, Manager, MAYSYAFED also graced the occasion and expressed interest for a demonstration on the technology at MATSYAFED unit at Thoppampady. A formal Vote of Thanks was offered by Dr P.K. Binsi, Scientist, Fish Processing Division, ICAR-CIFT. The programme was well attended by fishermen, market vendors, representatives from fish processing industry and the general public.
The inaugural function was followed a demonstration on the technology on conversion of fish waste to feed. Dr. Zynudheen  and Dr. Binsi conducted the demonstration assisted by Shri Ajeesh, Shri N. Sunil and Shri Rahul Ravindran, Technical Assistants of the Institute. The questions and doubts of the participants were cleared by the scientists of CIFT.
A section of the audience 

Dr. A.A. Zynudheen explaining the technology

 

Felicitations by Shri Sudhir and Dr. Saju

Demonstration in  progress