ICAR-CIFT Success Story on Women Entrepreneurship
ICAR-CIFT intervention in women entrepreneurship development: A success story from Kharwa fishing community in Veraval, Gujarat
Background

Veraval is a coastal town in Gir Somnath district in the Indian state of Gujarat. 'Kharwa', the fishermen community, form a sizable part of the local population in the coastal regions of Gujarat like Veraval. Fisheries have always been the main industry in Veraval and are dominated by the Kharwas. The Kharwa fisherwomen belonging to one of the backward classes in Gujarat are already involved in fresh fish selling in the local markets, peeling of shrimps, fish drying and pre-processing and processing activities in seafood export units as workers. In Veraval, fish is sold either in fresh or dried form in the domestic market by these women. There are other fish related micro enterprises such as preparation of value added products like fish pickle, fish ball, fish cutlet, fish samosa etc., which has not been explored. 
Intervention by ICAR-CIFT through skill development programmes

Fish is a highly perishable commodity, which requires proper handling, processing and distribution if it is to be utilized in a cost effective and efficient way. Technological interventions are essential for better utilization of fishery resources for better profitability. Product diversification can be an option to expand the marketing of fishery products. Various value added products can be prepared out of fish without much investment. Although the demand for such kind of products is huge, fisherwomen don't venture much into entrepreneurship of value added fishery products, due to lack of skills and marketing opportunities.
Veraval Research Centre of ICAR-CIFT (Central Institute of Fisheries Technology) extended technical knowhow to Kharwa fisherwomen through a series of NFDB (National Fisheries Development Board, Hyderabad) funded skill development programmes aiming at livelihood enhancement of fisher folk. The first in the sequence of year long training programmes started on 24th July, 2018 on value addition of fish and fishery products and each time, as many as 25 participants including fishermen/fisherwomen and small scale entrepreneurs from Gujarat participated in the hands-on training programmes. The fisherwomen were trained on different value added products from fish namely burger, samosa, cutlets, pickle, balls, fingers etc. The three day programme was designed for improving the skill of women for preparing variety of fish products to increase consumer appeal and to empower the budding women entrepreneurs of fishermen community to enhance their income and improve their livelihood.
Impact of the intervention programmes by ICAR-CIFT

The intervention programmes by ICAR-CIFT facilitated women from a disadvantaged community to organise into groups to empower themselves as businesswomen taking their families and community forward in the process. The regular training programmes organized by ICAR-CIFT resulted in the women being able to produce low cost higher value fish products that will generate increased income.  them, 25 women from a group named 'Sagar Manthan Machhimar Utthan Mandal' trained at ICAR-CIFT participated in the recently held Chorwad Fair in Gujarat and could earn handsome amount as profit by selling the seafood delicacies in the three day Fair during 8-10 September, 2018. The profit earned in the fair was distributed to the members by Collector of Gir-Somnath District, Shri Ajay Prakash, IAS in a programme organized at Veraval Research Centre of ICAR-CIFT to congratulate the women entrepreneurs on 19 September, 2018. Taking a cue from the success at the Chorwad Fair, the group is planning to attend similar fairs and festivals in and around Gir-Somnath District. They will be soon opening a stall in Veraval for selling fish-based value added products in addition to home delivery of seafood snacks.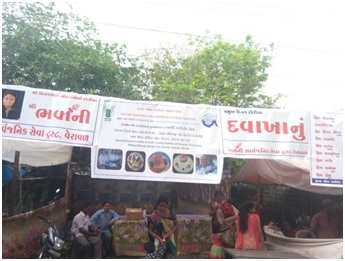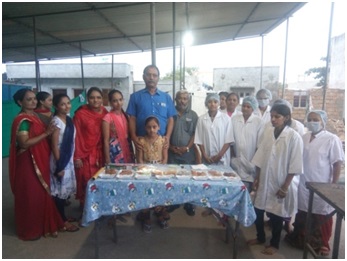 The stall set up by fisherwomen in the Chorwad Fair      Shri Velji Bhai Masani, Chairman, GFCCA with 
                                                                                                                    the fisherwomen in the stall

 
Preparation of value added fishery products in the stall under the guidance of scientists from ICAR-CIFT