ICAR-CIFT signs agreement with M/S Quest Bio Organics (P) Ltd. For technology commercialization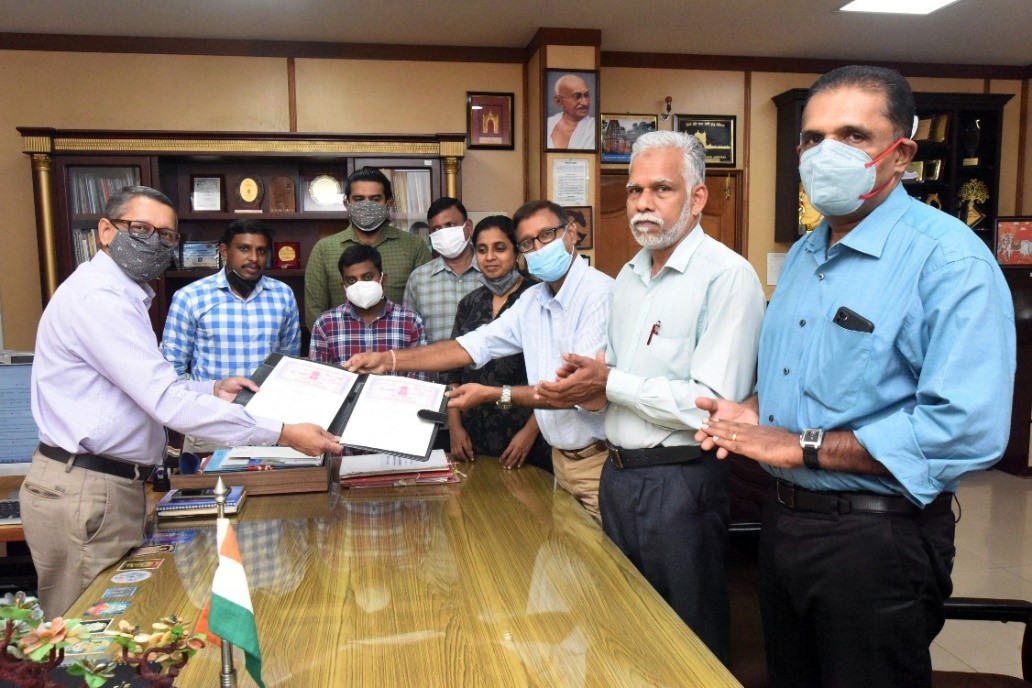 ICAR-Central Institute of Fisheries Technology (CIFT), Kochi inked a Memorandum of Agreement (MoA) with Kolkata based Quest Bio Organics (P) Ltd. on 16th September 2021 for commercializing two technologies namely Growth enhancer (Foliar spray) and spray dried pet feed supplement developed from shrimp shell waste. ICAR-CIFT is taking pride to create a momentum in the initiative of Swachha Bharat Mission of Govt. of India through these two technologies, which have the potential for conversion of fish waste to wealth.
Quest Bio Organics (P) Ltd., a technology-driven platform dealing with research, development, and commercialization of novel products in the Agro-horticulture domain, is committed to harness the benefits of these technologies for enhancing the agricultural productivity.
Applauding the efforts of the CIFT scientists, Director, ICAR-CIFT Dr Ravishankar C.N.  said that raising agricultural productivity per unit area of land always remains a major challenge before Indian agriculture. In this context, the introduction of foliar spray as a customized fertilizer, can act as a growth enhancer to boost the crop yield and develop disease resistance in crops. The CIFT-foliar spray developed from shrimp head waste contains all vital growth elements and antimicrobial agents in a balanced proportion. He also highlighted that the Indian pet feed and feed supplement market has witnessed a compound growth rate over the past few decades.  Hence, the pet feed supplement developed by ICAR-CIFT from shrimp head waste, which is rich in protein, carotenoids, PUFA and calcium may propel the growth of Indian feed industry.