Prime Minister interacts with Farmers from the country through video conferencing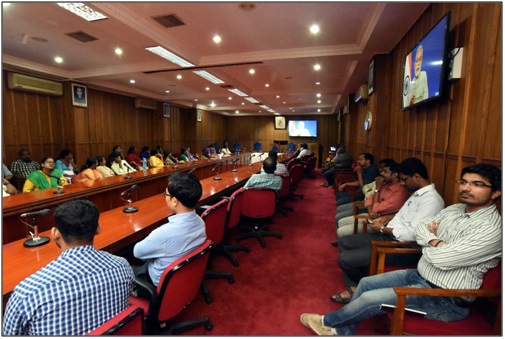 The Hon'ble Prime Minister of India, Shri. Narendra Modi Ji, interacted with the farmers of the country on June 20, 2018 at 9.30 a.m.  This programme was broadcast live through Doordarshan, DD Kisan and Akashvani. In this connection, a live web-cast was arranged in the Conference Hall of ICAR-CIFT, which was attended by more than 180 people comprising of fish entrepreneurs, fishers and staff of the Institute. Hon'ble Prime Minister interacted with farmers from Angul district in Odisha, South 24 Paraganas district in West Bengal, East Sikkim district in Sikkim, Ramanagara district in Karnataka, Shahjahanpur district in Uttar Pradesh, Jodhpur district in Rajasthan, Kanker district in Chattisgarh, Jhabua district in Madhya Pradesh and Solapur district in Maharashtra through video conferencing which was facilitated by ICAR Institutes and KVKs.

The PM spoke on the four-point strategy of the government for doubling the income of farmers by 2022, which included reduction in input cost, remunerative price for the produce, reduction of post harvest loss and development of supplementary income sources. He said that government has also increased the budget allocation for agriculture to Rs 2.12 lakh crore. The country has achieved a record production of food grain, milk, fruit, vegetable and fish in 2017-18. 

Farmers highlighted value addition, packaging, diversification of farming activities, adoption of high yielding varieties, organization of farmer producer organization, opening of custom hiring service centres, implementation of drip irrigation system. The benefits from the Soil Health Card scheme and the Prime Minister Fasal Bima Yojana (PMFBY) were also shared by most of the beneficiaries.

During the interaction, different farmers, aquaculturist and fishermen narrated their success stories on drip irrigation, use of modern equipment through Custom Hiring Centre (CHC), Soil heath card, fish hatchery development, backyard poultry (Kadaknath breed), skill up-gradation on different technologies, value added products development etc.thatresulted in by 2-5 foldincrease in their farm income. 

For instance, Mr. Vikasgirifrom South 24 Parganas, West Bengal has mentioned about Magur hatchery and supply of the fish across the country. He is able to generate employment for 15 people. 
The Hon'ble Prime Minister mentioned about "Per drop more crop" and Gramin Retail Agricultural Market(GRAM). He highlighted about the Minimum support price (MSP) fixation mechanism that covers most of the aspects like labour cost, input cost, insurance cost etc., so that the farming community will get optimum benefit. He lauded the efforts of farmers of Sikkim for their contribution for production of organic farm produce like vegetables, gingers etc., which has brought them international acclamation.

Giving special emphasis on fish production, the Hon'ble Prime Minister told 20% fish production has increased during last three years. The government is going to support the fishers for deep sea fishing, with a subsidy of 50% to the tune of 40 Lakhs to facilitate harvest of deep sea fish that will be helpful in increasing the overall fish production and strengthen the blue economy of the country. 

The PM thanked the farmers for being in the forefront of the development of the country by ensuring the food security and providing the source of raw material for other industries. He specifically stressed the need to develop beekeeping, seaweed cultivation and ornamental fisheries which had good income generating potential. He also spoke about the Blue Revolution which is an ambitious programme of the government and under which traditional fishermen are being given support to diversify into deep sea fishing.