National Seminar on AMR in Indian Fisheries: Measures and Mitigation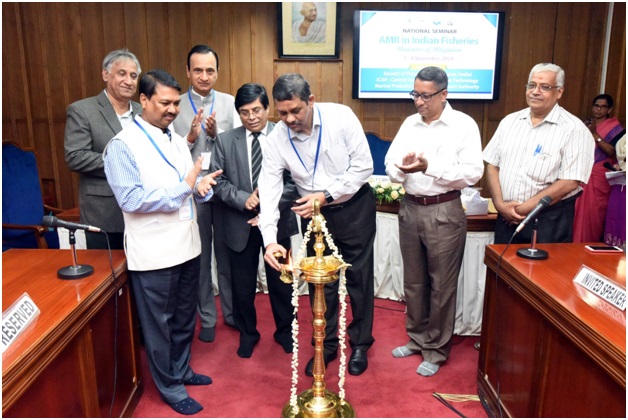 Shri. KS Srinivas IAS, Chairman, MPEDA inaugurating the Seminar by  lighting the lamp, (from left), Dr, JK Jena, DDG (Fisheries),
ICAR , Dr. MM Prasad, Head MFB Division. Dr. Rajesh Bhatia, FAO Consultant, Dr. H Rahman, (ILRI), Dr. CN Ravishankar, Director, CIFT,
Dr. K Ashok Kumar, Secretary SOFT(I) and Head, FP division looks on.
A two day national seminar on AMR in Indian Fisheries: Measures of Mitigation is being organized at ICAR-Central Institute of Fisheries Technology (ICAR-CIFT), Cochin during 07-08 November, 2019. The program is jointly organized by Indian Council of Agricultural Research (ICAR), New Delhi, Society of Fisheries Technology (India) SOFT (I), Cochin, ICAR-CIFT, Cochin and MPEDA, Cochin.

The seminar was inaugurated by Shri. K.S. Srinivas IAS, Chairman, MPEDA, Cochin. In his inaugural speech he emphasized on the need for an increase in fish production to double by the year 2024-25 as is stipulated by Government of India and added that MPEDA has taken up this challenge.  He also underscored the need to reduce the antibiotic residue to the zero tolerance level to enhance the demand of Indian seafood products by European Union, Japan and China, the vital export markets on which India survives. As an export regulatory body, MPEDA has a National Residual Control Plan to monitor the antibiotic residue in fish and fish products. As Indian seafood products has a very high demand in international market, especially in China in recent years. He also underscored the relevance and importance of the seminar so as to make the stakeholders, farmers and public aware of the importance of AMR as a potential health hazard.

Earlier in his Presidential address Dr. J.K. Jena, Deputy Director General (Fisheries), ICAR- New Delhi, expressed happiness for having focused the seminar on the topic on AMR in fisheries and live-stocks as health and nutrition are being the key areas our country which is saddled with AMR problems. He added that to achieve the food security we have to address gaps of  three generations, wherein; problems being faced at production and productivity level as first generation, intensification and diversification as second generation problem whereas, AMR as third generation problem. Misuse and overuse of antibiotics are the root causes of the menace of AMR and hence a proper public awareness of antibiotic resistance is the key to address the AMR issue. Dr. Rajesh Bhatia, FAO expert emphasized the need to tackle the AMR issue to improve the economic health of the country. A quantitative estimate on the use antibiotics in fisheries and human health sector is the need of the hour to translate the issue into policy making process at governance level.  Dr. Habibar Rahman, International Livestock ReaserachInstitute (ILRI), Regional Representative South Asia, Delhi, the Guest of Honour opined that a reliable data on the use of antibiotics help to take administrative action plan to contain the AMR problems.
 
Three of the eminent retired Principal Scientists of Microbiology Fermentation &Biotechnology (MFB) Division of CIFT, Dr. P.K.Surendran, Dr Nirmala Thampuran and Dr. K.V.Lalitha were honored for their life time contribution in the field of microbiology and biotechnology in fisheries sector. Earlier Dr.C.N.Ravishankar, Director, ICAR-CIFT and President, SOFT(I) welcomed the gathering. The inaugural session came to an end with vote of thanks by  Dr.M.M.Prasad, Convener of the Seminar & Principal Scientist and Head of Microbiology Fermentation and Biotechnology Division of CIFT.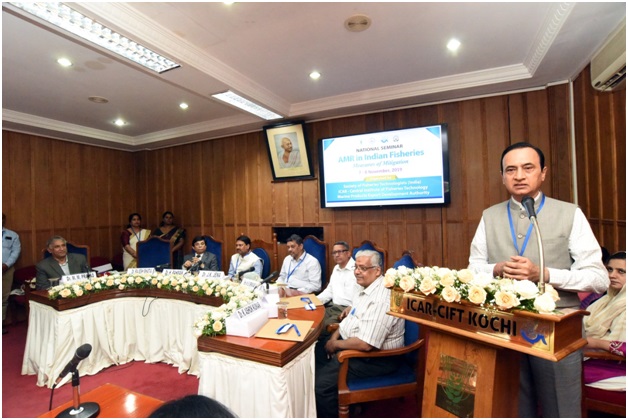 Dr. Rajesh Bhatia, FAO Consultant delivering the key note address in the seminar. On the dais from( Left ), Dr. MM Prasad, Head MFB Division,
Dr. H Rahman, (ILRI),  Dr. JK Jena, DDG (Fisheries) ICAR,Shri. KS Srinivas IAS, Chairman, MPEDA. Dr. CN Ravishankar, Director, CIFT,
Dr. K Ashok Kumar, Secretary SOFT(I) and Head, FP division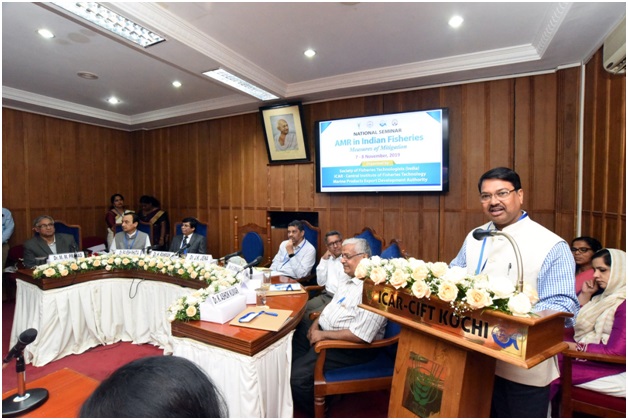 Dr. JK Jena, DDG (Fisheries) ICAR delivering the presidential address in the seminar. On the dais from( Left ), Dr. MM Prasad, Head MFB Division,
Dr, Rajesh Bhatia, FAO Consultant, Dr. H Rahman, (ILRI),  ,Shri. KS Srinivas IAS, Chairman, MPEDA. Dr. CN Ravishankar, Director, CIFT,
Dr. K Ashok Kumar, Secretary SOFT(I) and Head, FP division