ICAR-CIFT launched national campaign on 'Fish for health and prosperity' as part of Azadi Ka Amrit Mahostav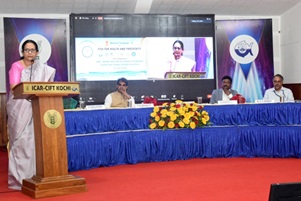 ICAR - Central Institute of Fisheries Technology (CIFT), Cochin launched a national campaign on 'Fish for health and prosperity' at its main campus at Kochi as a mark of commemorating the 75th year of Indian independence as 'Azadi Ka Amrit Mahotsav'. The campaign was contemplated to highlight the importance of fish as a nutritious food for human health and alleviating malnutrition in the society. The programme was organized in hybrid mode in collaboration with all fisheries research institutes under Fishery Division of ICAR.
Dr. K.N. Raghavan, IRS, Chairman, MPEDA, Cochin graced the occasion as Chief Guest. In his inaugural address, he accentuated the nutritional value as well as delectability of fish for human consumption. He touched upon the history and present status of fishing in India and expressed concerned over the declining status of thriving marine fishery industries of the past with swelling population and burgeoning demand for fish. In this context, he suggested aquaculture as the emerging sector sharing the major demand for fish for consumption. He also emphasized upon the major issues leading to ocean famine whereby livelihoods of millions of fishers are affected and availability of cheap and nutritious fish is impacted and called upon to resolve these issues to save the planet.
Chairing the inaugural session, Dr. Leela Edwin, Director, ICAR-CIFT in her deliberation highlighted the importance of fish consumption, present status of consumption in our country and nutritional values associated with fish. She briefed the major achievements of ICAR-CIFT and its contributions towards sustainable fishing and role of ICAR-CIFT as a pioneer in fishery business incubation. Earlier, while welcoming the delegates, Dr. T.V. Shankar, Principal Scientist & In-charge, PME Cell, ICAR-CIFT discussed the importance of Azadi Ka Amrut Mahotsav and the initiatives taken by ICAR and its Institutes in celebrating the 70th week celebration of Azadi ka Amrit Mahotsav under the theme related to fisheries science.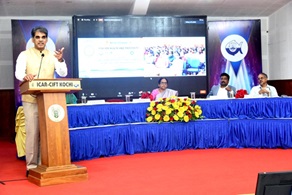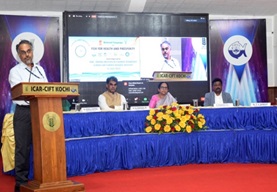 Dr. Shivakumar Magada, Dean, College of Fisheries, Mangalore in his felicitations address, threw light upon the issues of hidden hunger in the country and role of fish in alleviating it. He mentioned upon the efforts under PMMSY which may lead India to 20 MT of fish production by 2025. He complimented ICAR-CIFT for its pioneering role and excellent contributions in fish processing and nutraceutical development. Dr Suseela Mathew, Head, Biochemistry and Nutrition division offered vote of thanks.
During the technical session, Dr. Chadag V Mohan, Principal Scientist, World Fish, Malaysia gave an insightful and thought-provoking lecture on 'Aquatic foods for healthy fish and planet'. He dealt upon the global perspective on food and nutrition security, aquatic fisheries systems around the world and role of aquatic fisheries for nourishing the nation. In his key messages, he recommended for successful inclusion of aquatic foods in daily diets through various schemes as policy implications. During his address, he suggested for integrating nutrition sensitive fish-agri food systems and shared some success stories of intervention of fish-based nutrition using small indigenous fish under WFC projects in Odisha, India and other parts of the world.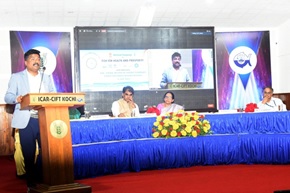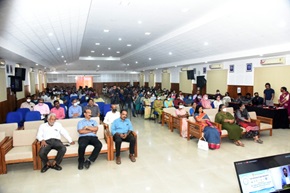 Dr. Shivakumar Magada, Dean, College of Fisheries, Mangalore in his lecture on 'Fish for health and wealth', stressed upon the health benefits of fish, ways to get maximum health benefits from fish and its role in addressing the under-nutrition issues in our country. Issues of price inequality for fish among different markets, minimum scale of economies for fishery entrepreneurship units in comparison with major agricultural and horticultural products were also discussed during his talk. The presentation also provided glimpse of major income generating entrepreneurial opportunities in fish farming.
The programme concluded with a successful note with the participation of about 12,547 participants joining both offline and online mode from Krishi Vigyan Kendras (KVKs), College of Fisheries (CoFs) and other line organizations of different states including all fisheries research institutes and some more research organizations in ICAR comprising of scientists, students, academicians, researchers, extension professionals and other stakeholders. Queries pertaining to the theme were also discussed by the speakers.