CIFT inks MOU with Matsyafed for transfer of technology on conversion of fish waste to aquafeed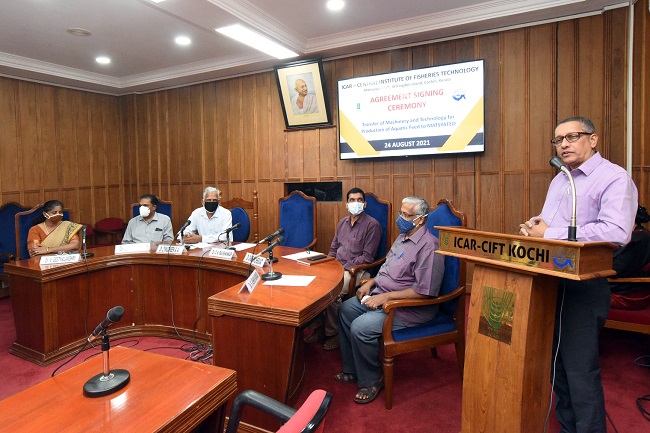 Address by Director, ICAR-CIFT
ICAR-CIFT, Cochin signed a memorandum of understanding (MOU) with Cochin based Matsyafed to transfer 'technology and machineries' for conversion of fish waste into aquafeeds and its marketing.  This innovative technology has been evolved by ICAR-CIFT with the twin objective of meeting the high demand for fish feed by the ever-growing aquaculture sector in the State and also to do away with existing unhygienic fish waste management practices. The institute has also developed a machinery line with a production capacity of 500- kg feed per day from fish waste costing around Rs.15 lakhs. 
Fish waste, which is generally considered as a nuisance to both public and local bodies alike, creating unhygienic environment in public places, is an excellent source of protein and can very well replace fish meal by converting itself to high value feed, which may boost the aquaculture sector, in a big way. "Fish waste management" is the most sought-after technology, proved to be a major relief to local bodies those are struggling to manage fisheries waste in harbours and fish markets, which have become a major menace for the society from hygienic point of view. Realising the huge potential of fish market waste, ICAR- Central Institute of Fisheries Technology (CIFT) has come-up with a simple and most enterprising technology for the conversion of fish market waste directly to aqua and poultry feed rich in protein and minerals. It may provide viable business opportunities to emerging start-ups/ accelerators bootstrapping their ways to develop micro, small and medium enterprises in preparing high value fish and poultry feeds from rest raw materials of fishes.
On 24 August, 2021 at a function organised by ICAR-CIFT for handing over the technology to Matsyafed; the Director of the institute, Dr. Ravishankar C.N exchanged the MoU on 'Transfer of Technology and Machinery to Managing Director, MATSYAFED Dr. Dinesan Cheruvat in the presence of Dr. Ashok Kumar, HOD (FP Division), Dr. Zynudheen A.A. HOD (QAM Division) and many other dignitaries from state fisheries department and ICAR-CIFT. Accentuating the importance of the technology Director, ICAR-CIFT Dr Ravishankar proposed that MATSYAFED may upscale the technology dissemination through Pradhan Mantri Matsya Sampad Yojana (PMMSY), so that large number of start-ups can access this technology which may be a game changer in propelling agri start-ups to explore business ventures along fisheries value chain. Louding the contribution of ICAR-CIFT in developing an industry-ready promising technology like fish waste management, MD, MATSYAFED Dr. Dinesan   Cheruvat said that CIFT has been playing a pivotal role in driving the growth of fisheries sector in the state through its cutting-edge technologies.   
So far, the institute has successfully demonstrated the technology in 40 fish markets across the country under the Govt. of India flagship programme 'Swachhta Action Plan (SAP)', which has been highly appreciated by the stakeholders.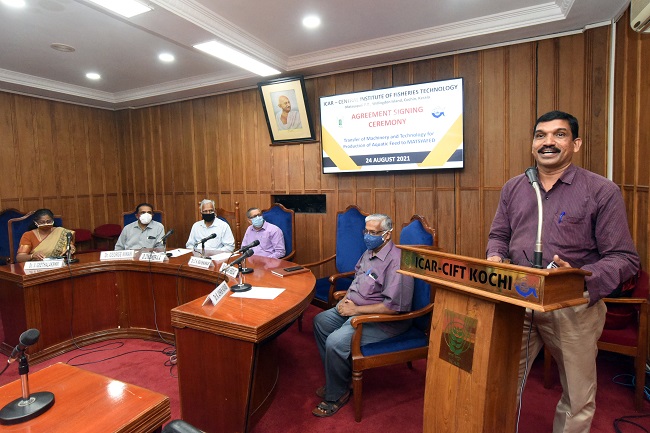 Address by MD, MASYAFED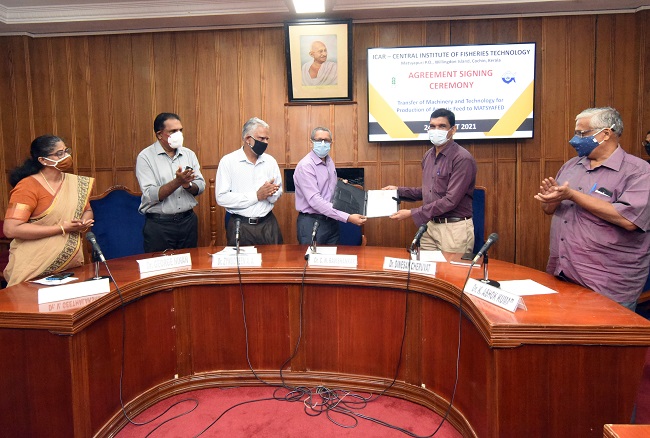 Director, CIFT, Cochin exchange MOU with MD, Matsyafed, Kerala