Commissioner of Higher Education, Gujarat inaugurates CIFT & MANAGE collaborative training programme
| | |
| --- | --- |
| Inaugural function of the programme | Inaugural address by Chief guest |
ICAR-CIFT, Cochin in collaboration with MANAGE, Hyderabad organised an off-campus collaborative online training programme on 'New start-up opportunities in Fisheries' during 11-14 July, 2022. It was attended by 55 participants from all over the country covering 22 states comprising of researchers, teaching professionals, students, Ph. D scholars, entrepreneurs, extension professionals and field level development officers from state departments. Inaugurating the programme, Shri. M. Nagarajan, IAS, Commissioner of Higher Education, Gujarat in his deliberation highlighted the technological gaps in the start-up ecosystem and necessity for a participative, collaborative and inter-disciplinary mode of approach for enhancing the performance of start-ups in long run. He also stressed on formation of Innovation Club for more consistency and better sustainability of the start-up ventures ensuring smooth upscaling of the start-up practices.
The programme was presided over by Dr. Leela Edwin, Director (Acting). In her presidential address, she discussed about the possible scopes and opportunities in fisheries for strengthening the Indian start-up ecosystem. Dr. A.K.Mohanty, Head, EIS Division, ICAR-CIFT in his felicitation address narrated the agritech start-up scenario in India as compared to global status and expressed that fisheries sector can be boomed up with inclusion of entrepreneurship. The programme was co-ordinated by Dr. Pe. Jeyya Jeyanthi, Senior Scientist as Course Director. Dr. Saravanan Raj, Director (Agricultural Extension) and the Course Co-ordinator from MANAGE, Hyderabad said about the initiatives taken by MANAGE, Hyderabad for supporting the agritech start-ups. The programme came to an end with a vote of thanks by Dr. Nikita Gopal, Principal Scientist, ICAR-CIFT, Cochin.
| | |
| --- | --- |
| Participants in virtual mode with Chief Guest | Participants during the inaugural programme |
In total, 14 technical sessions relevant to title of the training 'Start-up opportunities in fisheries' were dealt with apart from experience sharing by two successful fishpreneurs. The sessions covered the topics like value addition and fish processing, aqua-nutraceuticals, engineering interventions in fisheries, quality and safety of fish products, stakeholders feasibility, success of community-based start-up models, investment analysis for a viable business, inclusive entrepreneurship, marketing ecosystem for enterprise development, information management using web based tools, ABI activities of ICAR-CIFT, Policies and programmes of National Fisheries Development Board (NFDB) and Ministry of micro, small and marginal enterprises (MSMEs).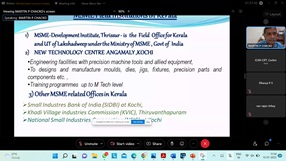 Technical Session in progress
Besides technical sessions, there were exclusive experience sharing session by the two fishpreneurs viz., Shri.Mohamad Fawaz. T.C, Founder of Foo Foods, Kozhikode, Kerala and Shri. Saurav Satish, Co-founder of Zarin Kashmiri Trout, Ladakh, Kashmir. The entrepreneurs shared their experience about their enterprises for the benefit of the participants.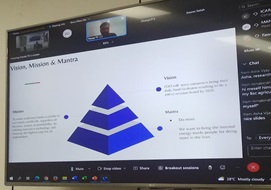 Experience sharing by fishpreneur
Valedictory function of the programme
The training programme came to an end with the valedictory programme graced by Dr A.K. Mohanty, Head, EIS Division in presence of Dr. Pe. Jeyya Jeyanthi, Senior Scientist as Course Director along with the feedback from the participants.