ICAR-CIFT, Kochi conducts ITEC International Programme customized for Oman officials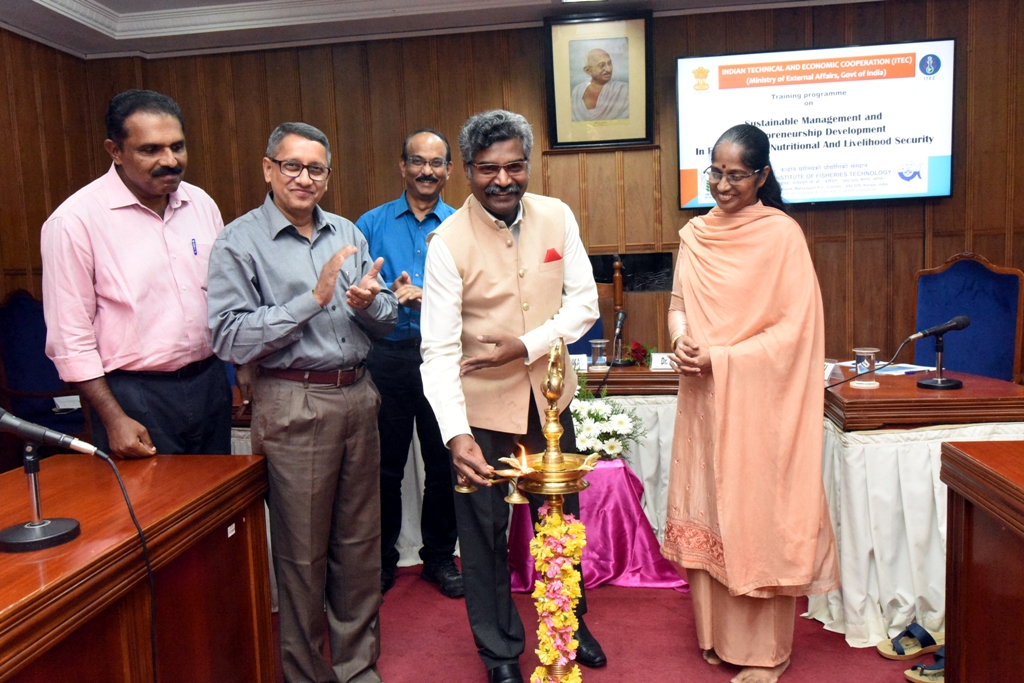 ICAR-Central Institute of Fisheries Technology (CIFT), Kochi; the leading research institute in the country in the realm of harvest and post-harvest technologies in fisheries, has organized an international ITEC Course on "Sustainable management and entrepreneurship development in fisheries for nutritional and livelihood security" specially designed for officials from Govt. of Oman from 9-20 January, 2020 at its main campus in Kochi. This training is being organized as a part of Indian Technical and Economic Cooperation (ITEC) programme sponsored by Ministry of External Affairs, Govt. of India to share India's knowledge in the field of science and technology with ITEC partner countries. Twenty executives from Govt. of Oman are participating in the programme.

Dr. A. Arunachalam, Assistant Director General (International Relations), ICAR, New Delhi graced the inaugural function of the ITEC programme as Chief Guest. In his inaugural address, he appreciated the effort of ICAR-CIFT to establish their presence in overseas, thereby fetching recognition to ICAR at international level. Citing a report of FAO, he said that the Sultanate of Oman is emerging fast as one of the largest fish producers and a net exporter of fish and fish products in the region. He underlined that in this context, this customized ITEC course has rightly embarked upon the two major aspects of capacity building in Oman fisheries i.e. sustainable resource management and development of entrepreneurship opportunities.   

Presiding over the function Dr. Ravishankar, C. N., Director, ICAR-CIFT, Kochi highlighted the important contribution of the institute in the gamut of harvest and post harvest fisheries covering all the water bodies namely fresh water, cold water, brackish water and marine ecosystem. Emphasizing on the special recognitions of the institute with the distinction of three times Outstanding ICAR Institute Award (2000, 2006 & 2018) for its excellent track record in R&D endeavours and extensions activities and National level Referral/ Reference Laboratory for fish and fish based products, he requested the Oman officials to come forward for developing technical collaborations in fishery research and extension.

The ITEC Coordinator of ICAR-CIFT Dr. A. K. Mohanty briefed about the ITEC initiatives of India for developing Knowledge Bridge with ITEC partner countries and added that ICAR-CIFT, Kochi, one among the two institutes in NARS (ICAR) has bagged the unique distinction of conducting such prestigious international ITEC programme through which its technologies have reached beyond the boundaries of the country. The Course Coordinators Dr. Nikita Gopal Principal Scientist welcomed the delegates and Dr. George Ninan, Principal Scientist offered vote of thanks during the occasion.