ICAR-CIFT designed fishing vessels constructed by Cochin Shipyard Limited Flagged off in Tamil Nadu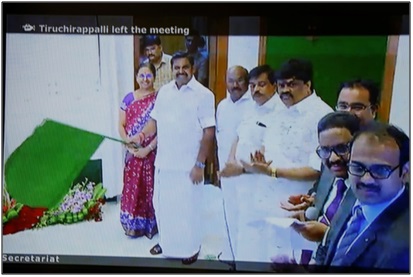 The Honourable Chief Minister of Tamil Nadu flagging off the first vessel through video conferencing
As a harbinger of a new revolution in deep-sea fishing in India, ICAR-CIFT, Cochin created an impact in Indian fishing sector by signing an MOU with Cochin Shipyard Limited, Cochin for providing technical consultancy in the design of 22.50 m Long liner cum Gillnetter.
Today (19 Feb., 2019) the first batch of four vessels designed by ICAR-CIFT, Cochin and constructed by Cochin Shipyard Limited was flagged off by the Honorable Chief Minister of Tamil Nadu Shri. Edappadi K. Palaniswami through video conferencing in a function organized at Cochin Shipyard Limited, which was attended by array of dignitaries namely Mr. Madhu S. Nair, Chairman, Cochin Shipyard Limited; Shri Johny Tom, IAS, Additional Director, Tamil Nadu Fisheries; Shri. K.S. Srinivas lAS, Chairman MPEDA, Cochin; Dr. A. Ramachandran, Vice Chancellor, KUFOS; Dr. C.N. Ravishankar, Director, ICAR-CIFT; Dr. A. Gopalakrishnan, Director, ICAR-CMFRI; Dr. Leela Edwin, Head, Fishing Technology Division and Mr. M.V. Baiju, Senior Scientist and Naval Architect, ICAR-CIFT along with representatives from different Institutions, representatives of fishermen associations.
Under the initiative of ICAR- NASF assisted project on "Green Fishing System for Tropical Seas", ICAR-CIFT evolved a new-generation energy efficient, combination vessel envisaged as a standard model for replication in the tropical waters and developed design of the IRS class model-fishing vessel, F.V SagarHarita, which was constructed at Goa Shipyard, Goa. Field trials for deep sea fishing were carried out by ICAR-CIFT for multiday fishing operations and the results showed a saving of 15-20 % in different fishing conditions, when compared to similar class of fishing vessels in the region. Based on the success achieved in fuel conservation, the Department of Animal Husbandry Dairying and Fisheries, Ministry of Agriculture and Farmers Welfare, Government of India, entrusted ICAR-CIFT to make the technical specifications of a 22-23 m Long liner cum Gillnetter for the Blue Revolution scheme on all India basis.
Thus the MOU signed between ICAR-CIFT and Cochin Shipyard Limited, finally led to construction of sixteen sophisticated fishing vessels by Cochin Shipyard Limited by incorporating advanced navigational, fire-fighting and live saving appliances, which would help in a big way to harvest the deep-sea resources along the Indian EEZ and beyond.
These vessels have the capacity to venture into deep sea for long lining as well as gill netting operations using hydraulic gill net hauler and long line haulers which are fabricated within the shipyard in line with the "Make in India" concept of Hon'ble Prime Minister of India. The vessels also have refrigerated sea water system, to preserve fish onboard. The construction was made in accordance with the rules of Indian Register of Shipping(IRS) and the Trim and Stability booklet is approved by IRS.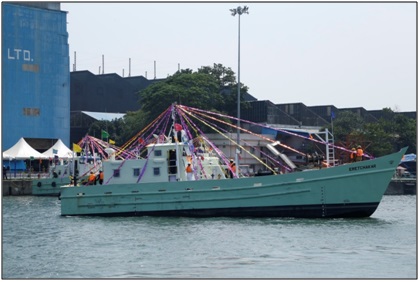 The first vessel ERETCHAKAR at Cochin Shipyard after the flagging off