Dry fish retailing takes a new Avatar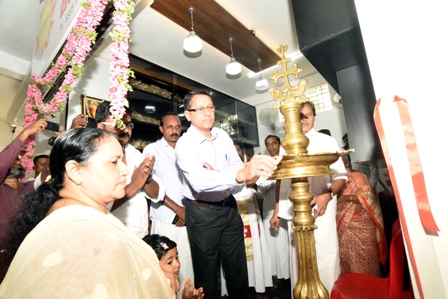 A new business model for solar dried fish products, has been introduced in Cochin, by a start up firm 'Aabbaa Fish Products' with the support of ICAR - Central Institute of Fisheries Technology (ICAR-CIFT). The dry fish store opened at Chambakara St.James Church shopping complex on 10th April, is definitely an ideal choice for dry fish lovers. The design of the store, the products, and the display settings, suits the new age retailing business, and the store is the first of its kind in Kerala. Aabbaa Fish Products are expected to revamp the dry fish delicacies which are favoured by majority of the Keralites.
All the products sold here are scientifically processed using the energy efficient and eco-friendly solar dryers developed by ICAR-CIFT. The quality of the solar dried fish is extremely good in terms of hygiene, retention of nutrients, aroma and taste, as it eliminates all the disadvantages of conventional open sun drying, and are free from the attack of dust, dirt, rain, insects and microorganisms. Lower and uniform levels of moisture can also be achieved for products from solar dryer when compared to the conventionally dried products. ICAR-CIFT provided all the technical support and guidance to this firm, through the Agri-Business Incubation (ABI) Centre operating at the Institute.
The new store at Chambakara market was inaugurated by Shri.P.T.Thomas, MLA in presence of Shri. V.P.Chandran , Corporation Councillor, Dr.Ravishankar C.N., Director, ICAR-CIFT, Dr. Manoj P. Samuel, Head, Engineering Division, ICAR-CIFT and Dr.George Ninan, Principal Investigator, ABI Centre.