Dr. Pravin Putra, ADG (M.Fy.), ICAR address the "World Ocean Day" celebrations at Veraval RC of ICAR-CIFT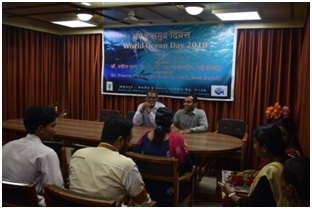 Dr. Pravin Putra, Assistant Director General (Marine Fisheries), ICAR, New Delhi visited Veraval Research Centre of  ICAR-CIFT on 8th June, 2018. During his visit, Dr. Pravin interacted with the scientific and administrative staff of ICAR-CIFT and ICAR-CMFRI, Veraval. He had a discussion on research and administrative activities of the Centres. Later on, he inaugurated the "World Ocean Day" celebrations of the Centre. During his speech, emphasis was given on the challenges faced by the fishermen community due to plastic pollution and sewage dumping into the sea. He suggested to take a pledge on minimal usage of plastic product and materials in day to day life and start use of recyclable material to combat with the plastic pollution. 
Dr. K.K. Prajith, SIC of the Centre welcomed ADG to the Centre and explained the various research activities. He also spoke on the significance of the World Ocean Day. As a part of the Celebrations, various competitions (Elocution, drawing etc.) were conducted at the Centre and the prizes to winners were distributed by the guest. Dr. S. Remya, Scientist formally welcomed the gathering and Smt. V. Renuka, Scientist  offered  vote of thanks.