ICAR-CIFT Celebrates 65th Foundation Day with fervor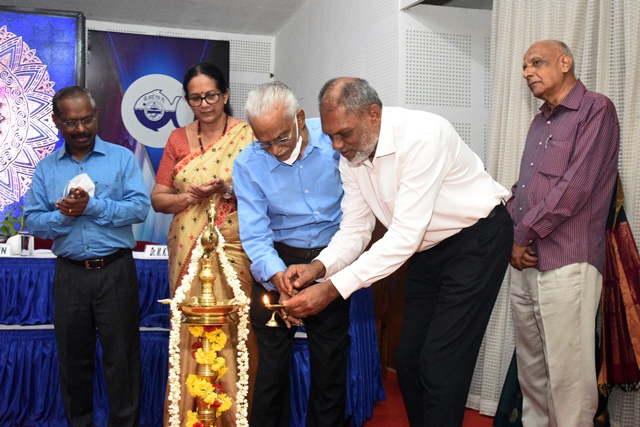 The ICAR-Central Institute of Fisheries Technology (CIFT), Cochin celebrated its 65nd Foundation Day with fervor at its main campus in Kochi today. Dr. P Pravin, Asst. Director General (Marine Fisheries) ICAR, New Delhi graced the occasion as Chief Guest in the presence of other luminaries of the institute like Dr. K. Gopakumar, former DDG (Fisheries) and former Directors Dr. M K Mukundan, and Dr. T K Srinivasa Gopal as Guest of Honours.
The Chief Guest Dr Pravin P, ADG (Marine Fisheries) applauded the remarkable accomplishments of the institute since its inception during 1957 and remembered some of the potential technologies that have created meaningful impact in the field of harvest and post-harvest fisheries in line with national priority. On this occasion, he called upon the scientists and the staff of the institute to maintain the status-quo in fisheries research and development and let the institute excel further.
Earlier, the event commenced with the presidential address by Dr. Leela Edwin, Director (Acting), who emphasized the momentous contributions of CIFT during the past few years in the domain of harvest and post-harvest fisheries. She highlighted some significant research innovations evolved by the institute during the period that include the technologies like fuel efficient deep sea fishing vessels, zero fuel solar and pedal boats for inland fisheries, combination of LNG & diesel based fishing vessel, novel nutraceuticals and pharmaceutical products from fish waste and seaweeds, development of standards for more than 382 quality parameters related to fish and fish based products and advanced dryers for hygienic drying of fish. Further, the impactful technology dissemination programmes across the country under NEH, TSP and SCSP flagship programmes has established the dominance of the institute in bringing the livelihood security of the fisheries stakeholders through strong linkage establishment and promotion of entrepreneurships in fisheries sector, she stated.
The Guest of Honours, Dr. K Gopakumar, Former DDG, ICAR, and former CIFT Directors Dr. M K Mukundan, and Dr. T K Srinivasa Gopal delivered the felicitation address. As part of this function, continuing its long tradition of honouring Institute's retired staff on the foundation day, ICAR-CIFT honoured representatives of the different categories of the retired staff of the Institute. Felicitations were given to the wards of staff members for their academic excellence through distribution of merit awards. On this occasion, ICAR-CIFT honoured five prominent stakeholders including fishermen, start-ups for their excellence in the concerned field with the help of ICAR-CIFT technological interventions. Dr. T V Sankar, Principal Scientist, ICAR-CIFT welcomed the gathering and Shri P P Anil Kumar, Senior Finance and Accounts Officer, ICAR-CIFT proposed the vote of thanks. The function ended with a variety of melodious entertainment programme performed by the staff and their wards. The foundation programme was attended by both retired and serving staff of the institute along with fisheries stakeholders from various parts of the state.